Drostan's Calendar
World premiere performance of a piece by Haworth Hodgkinson
Friday 15 December 2017 • 7pm
St Mary's and St Peter's Church • Mid Links • MONTROSE • DD10 8HD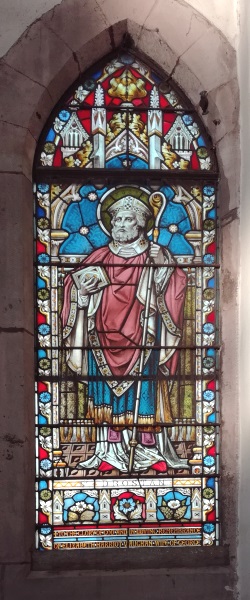 Drostan, depicted in a window of
St Mary's and St Peter's Church
Admission by donation to the church organ fund
Refreshments will be served
Programme
Haworth Hodgkinson: Drostan's Calendar (2015) – world premiere performance
The ensemble Intuitive Music Aberdeen is pleased to present the first performance of Haworth Hodgkinson's Drostan's Calendar on the feast day of St Drostan and in a church that incorporates a stained-glass window depicting Drostan.
According to accounts in the Aberdeen Breviary and the Book of Deer, Drostan accompanied Columba when he sailed from Ireland to Scotland in about 563 AD. They landed at Aberdour Beach on the Aberdeenshire coast and established a monastery in Buchan at a bend in the River Ugie. Archaeologists are uncertain of the exact site of this monastery, but it is believed to lie somewhere in the vicinity of Old Deer, perhaps within what is now Aden Country Park.
Columba returned to Iona, but Drostan remained in the North-East, and his name is associated with various sites in Aberdeenshire and Angus. The Pictish symbol stone at St Vigeans known as the Drosten Stone, unusual in bearing an inscription in Roman script, which reads "drosten ipeuoret ettfor cus", may refer to the same person. Drostan ended his days as a hermit in Glen Esk, and after his death his relics were taken back to Aberdour.
Aberdour Beach, now also known as the Drostan Shore, has long held a fascination for composer Haworth Hodgkinson. After some preliminary recordings in 1999, he visited the Drostan Shore at monthly intervals during 2004, making recordings of the waves breaking on the pebble beach. These twelve recordings of the sea in its seasonal moods became the basis of Drostan's Calendar, with live players adding gentle layers of intuitive music that become gradually more complex as the months proceed.
Performers
Rebecca Dunn, Colin Edwards, Haworth Hodgkinson & Mandy Macdonald (keyboards)
Venue

St Mary's and St Peter's Church • Mid Links • MONTROSE • DD10 8HD
Links
St Mary's and St Peter's Church, Montrose